NEIGHBORHOOD BIKE SHOP UPDATES & EVENTS

+ BICYCLE OF THE WEEK: 1931 IVER JOHNSON ROADSTER +
Take a look at this original un-restored Iver Johnson bicycle, featuring their famous "Truss Bridge" frame design. With serial number 505740, this bike is estimated to be a deluxe 1931 model based on information provided by helpful members of the CABE, in the Iver Johnson discussion thread.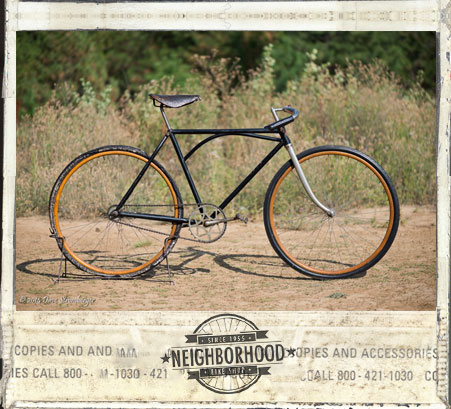 The seat, seat post and pedals are not correct, but otherwise this bike remains very original. The original paint is in amazing condition, as are the Lobdell wood rims and original nickel plating. This may have been the last year that Iver Johnson was using nickel plating on their bicycles before switching over to chromium plating. The gold plated badge was a feature of the higher-end models offered by Iver Johnson at the time.
Price: 1,399.00
Please note: We are not only offering consignments but we also provide spare parts and repair services for all collectors and enthusiasts alike.
To purchase a bike or arrange a viewing at our central NEIGHBORHOOD™ space please email request@neighborhoodbikes.com
Neighborhood Bike Shop Rating:




+ 2015 FOOD TRUCK WEEK SCHEDULE +
+ We are partnering with Linus Bikes to support the Food truck community. Come by the Neighborhood shop on the following dates listed below for a ride on our bikes and you get a free Neighborhood Bike Shop hat.//
Tuesdays
Normal Heights at Smitty's, 3441 Adams Ave. from 6pm-9pm
La Mesa Best Buy at 8401 Fletcher Parkway, 91942 from 5:30pm–8:30pm
South Park at 3030 Grape St, 92102 from 5:30pm-8:30pm
Wednesdays
Clairemont at 4150 Ute St. 92117 5:30pm-7:30pm
Eastlake at 871 Showroom Place, Chula Vista, from 5:30pm-8:30pm
University City at Spreckels Elementary, 6033 Stadium Street, 92122
Thursdays
Scripps Ranch Innovation Academy, at 10380 Spring Canyon Rd, Poway 92131, 5:00pm-8:00pm
Fridays //
La Mesa at 7871 University Avenue, La Mesa, 5:30pm – 8:30pm
Scripps Ranch at Jerabek Elementary, 10050 Avenida Magnifica, 5-7:30pm cancelled
Mission Valley at Westfield Mall, 1750 Camino Del Rio North, 5:00-9:00pm On hiatus until March 2015
Note: Before making plans to attend one of these gatherings, we encourage you to try to confirm the event by visiting the event's Facebook page, website, etc. Events can be cancelled due to weather, mechanical problems, or other factors. We take no responsibility for sending you to an event that ends up being truck-less!

HOW TO ASSEMBLE YOUR NEIGHBORHOOD BIKE
Congratulations on your Papillionaire purchase! Whether you've bought a single bicycle or retro bikes for the whole family, we would like to help to show you how to assemble a vintage bike! Don't be afraid when you get the first glimpse of your bike parts in a box.
It's an exciting time when a new bicycle arrives at your doorstep. And putting Papillionaire's vintage bikes together is quick and easy. In no time, you can hit the streets and show off your stylish Sommer, Mixte, Cafe Racer or Classic. However, sometimes you may need a bit of help putting your bike together, and that's why we've created a handy guide on how to assemble a vintage bike. We have a series of videos for the visual types and written instructions for those who prefer to read out instructions.
Papillionaire's retro bikes are made with care using quality materials. To ensure your bicycle remains in good shape, we recommend that you always keep your bike undercover when you aren't riding it and make sure your bike receives appropriate, timely maintenance. Keep your retro bike happy and you'll go on adventures together for years!
We just know you'll love your new Papillionaire bicycle! Click here for Papillionaire's instructions on how to assemble a vintage bike. If you have any questions, do not hesitate to contact the Papillionaire team.
Once you've learned how to assemble a vintage bike, you'll be an expert and can share your knowledge with friends and family. Putting together Papillionaire's vintage bikes is fun- in fact, building a bike is nothing more than playing with lego for creative adults!
Happy riding!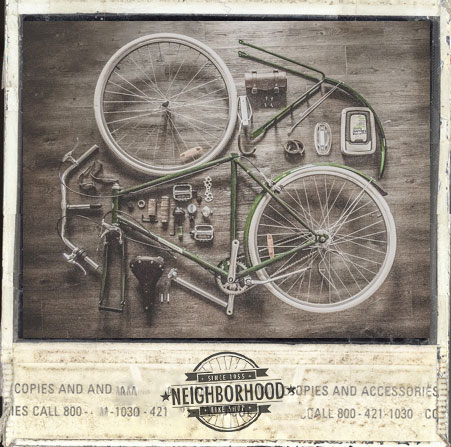 The front wheel was only 36" (92.4 cm) dia. but the drive, consisting of two chains and four chain wheels, one set on each side of the front wheel, geared it up to the equivalent of a 56" high-wheel bicycle (142 cm). The small back wheel was 22" (55 cm), the overall weight of 40 pounds (21.5 kg), and was priced initially £17. William Hillman had patented the chain drive on March 6, 1884, No. 4487. Many similar systems had been proposed in the previous decade and a half.